Prosimy czekać... Płatność jest realizowana.
Prosimy nie wyłączać okna przeglądarki.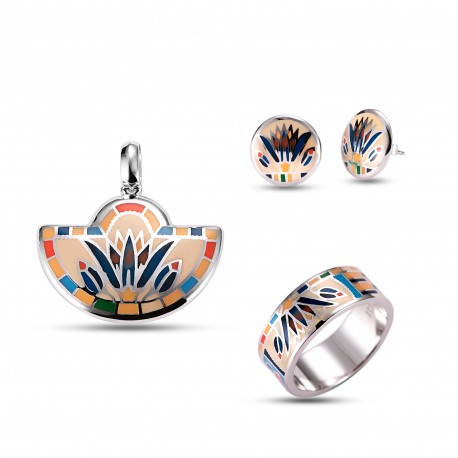 View larger
Model no. 943
ENAMEL SILVER SET
average weight: 17 g
earrings: diameter 15 mm, earwire: pin
ring: width 7,5 mm, thickness 1,3-1,5 mm
pendant: heigth 26,8 mm, width max 26,3 mm
fineness of silver: 925 sterling, plating with rhodium
rhodium layer protects silver from blackening
product marked with the assay mark at the Regional Assay Office in Warsaw
packaging: a cream box with a bow
Warning: Last items in stock!
Availability date:
More info
The collection of enamel silver jewelry derives inspiration from the art of the whole world.
The enamel technique is long-lasting and eye-catching with deep, glassy colors. The glassy enamel shell is handmade and cold applied.
And silver is a good catalyst for the expressive colors of enamel. Vivid colors, mosaic type shapes and undulant styling bring into one's mind the styles of Hundertwasser, Gaudi, or Klimt, but there are also ethnic or simply classical models.
Recommendation
In order to keep the color fastness of the enamel, it is recommended to avoid all kinds of bumps and scratches. We advise against contact with cleaning agents and suggest taking off the jewelry while washing hands, dishes, taking a shower or a bath.
High quality of
manufacturing
On-time
delivery
Original
designs
Informujemy, że wszystkie Twoje dane są chronione uwzględniając aktualne przepisy RODO. Korzystamy również z plików cookies w celu realizacji usług zgodnie z Prawem Telekomunikacyjnym.
Administrator Danych, Polityka Prywatności.